Commercial Roofing Council Bluffs
Commercial Roofing Services Council Bluffs
Choosing a commercial roofing contractor with the knowledge and expertise to design and install the most appropriate roofing system is more important than ever.
A properly installed system completed to industry standards can last more than 25 years. A poorly-installed system will give you problems from the start.
Our estimators know what is important to our commercial customers:
Accurate, Competitive Estimates
On-time Performance
Quality Installations
Experienced Journeymen
Adequate resources and manpower for any size job
Hawkeye Siding, Window & Door, Inc
Location:
1530 Avenue N Council Bluffs, IA 51501, USA
Phone:
(712) 323-5126
Commercial Roofing Council Bluffs
Hawkeye Siding, Window & Door has been in the roofing business for over 25 years with experience installing, servicing, and maintaining commercial roofs throughout Iowa and Nebraska.
We have experience with roofing installations for a wide variety of buildings including:
warehouses
shopping malls & retail outlets
restaurants
office buildings
medical centers
agricultural structures
multifamily, strata & apartments
Our expertise includes the installation of most commercial roofing systems.
Commercial roof installations sometimes require working with curb-mounted units that may involve the use of cranes and coordination with other trades – an area where Hawkeye Siding, Window & Door's experience and contacts to get the job done.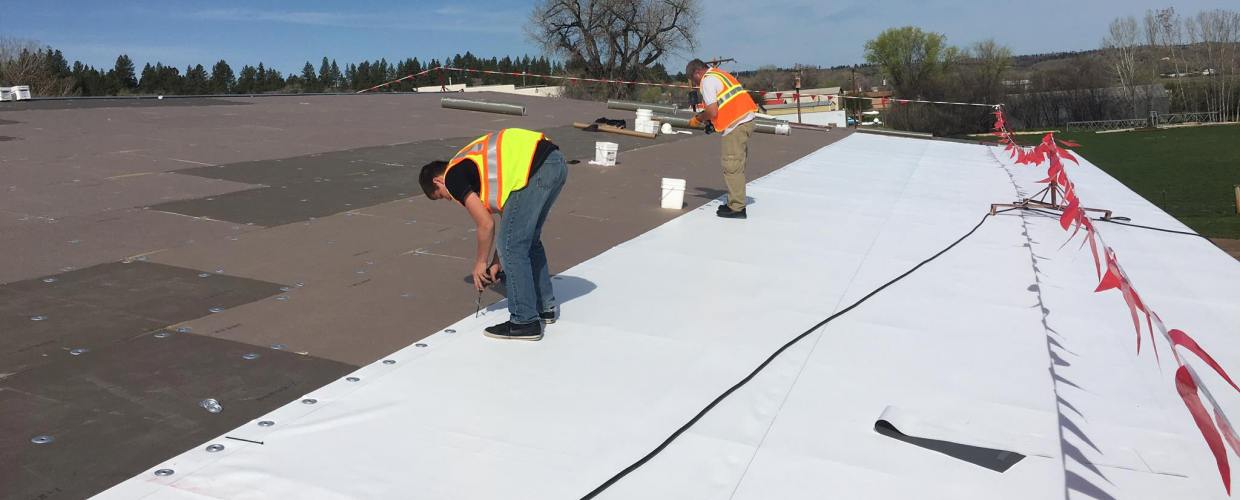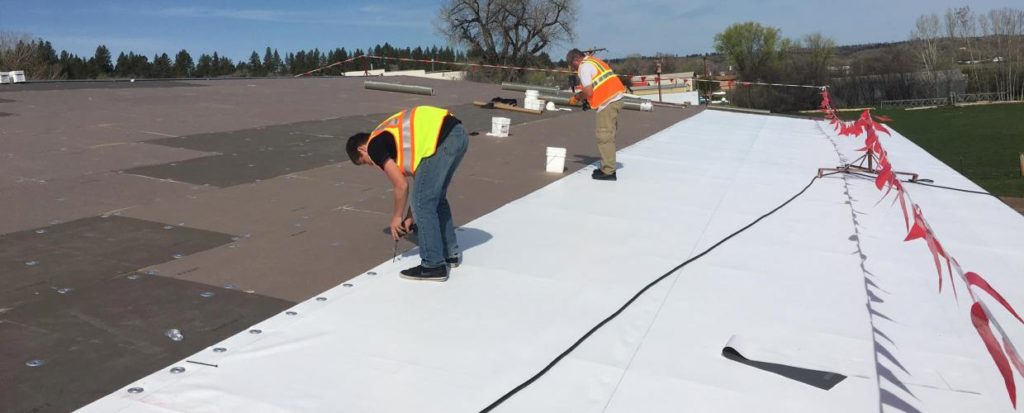 We offer a roofing service for everything, including a bad decking, ice dams, storm damage, broken tiles, rotting wood, missing shingles, skylight moisture, ugly stains, flashing damage, cement cracks or even a minor leaks.
Our cutting-edge technology and state-of-the-art methodology can offer you a solution that encompasses longevity and promises protection from future repair needs.
We first investigate the issue, determining the scope of repair and then build a quotation for our esteemed corporate clients.
No matter if your roof is made of cement, metal, bonded steel, slate, terracotta or iron, we have an optimal solution for every type of roof. Small repair or a full replacement, we will assist you at every stage to make sure you are only offered the best services.
Here's a look at some of our commercial services…
We have the following roofing services in store for you:
Roof Inspections

Roof Repairs

Roof Replacement

Modified Bitumen (Torch Down) and Built Up Roofing (BUR). This includes both SBS and APP Modified Bitumen, Tar and Gravel, Hot Tar and Hot Asphalt roofing

Metal Roof Repair, Replacement and Coating

Roof leak repair and investigation

Demolition, Repair and Installation of all roof decks.

Roof Consultation

Insurance Claim Consultation
Roof Replacement Services
Roof replacement is never a small undertaking. There are a few things one should take into account before deciding the best way to go about it.
First, does your building currently have only one layer of roofing installed? If so, you are a good candidate for a roof overlay. Although overlay roof replacement is often the best value, it is important to first be sure that the decking is up to par (among other things). Browse the link above for a more in depth discussion of things to be aware of when planning a roof replacement.
Roofing Maintenance Services
We also offer complete roofing maintenance services. Whether you need your roof cleaned or your roof drains unplugged, we can help.
Contact us to learn about our full service Roof Maintenance Contracts. We schedule and perform preventative maintenance on roofs which not only eliminates problems before they start but also dramatically extends the life of any existing roof. Not enough Owners appreciate that it is less expensive to implement a proactive maintenance program than it is to avoid one. Taking care of one roof for 30 years is much better than buying a new roof every 15.
There are 100's of roofing companies in the Council Bluffs area. Why pick Hawkeye Siding, Window & Door?
We have a team that focuses on Commercial Roofing in Council Bluffs and Omaha. Specializing separates us from the competition and allows us to perform our targeted trade faster and more efficiently. The result is higher quality work at a lower cost. Providing a better value to you ensures loyal, long term customers for us. Stated simply, our strategy is to do more, better, for less.
No matter, how critical the job is, our skilled team of roofing specialists makes each project flawless with a promise of high quality, consistency, and commitment.
If you've been looking for the best commercial roofing contractors in the Council Bluffs area, we sincerely believe that you have just found your roofer.
Request a free roofing estimate from one of the top roofing companies in Iowa.
There is no cost and no obligation. You will get a detailed report on your roof's current condition including roof repair, overlay or replacement options. Your recommendations will be prepared by our certified professionals. Take advantage of our expert understanding of commercial roofing systems and pick the custom tailored option that is right for you.
Time is money, save yours.
Trust Hawkeye Siding, Window & Door, Inc​
Frequently Asked Questions: